Category Archives:
Feed Trailers
We have over 20 Pacer, Warren and Pinson used feed trailers in stock. We will price these units with any amount of refurbishing that you would like done. You can buy the units as they sit, fully refurbished, or anywhere in between. Check out our inventory that is ready to go on www.truckpaper.com or call us for more info!
In addition to trailer sales, we also offer short term rentals or long term leasing.
Another 2003 Pinson that has been refurbished from the bottom up.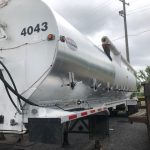 This feed trailer was used in our rental fleet some last year.  It was damaged while on rent and repaired.  This trailer is in very good condition.  In the summer of 2019 we completely refurbished this trailer from the bottom up.