Another 2003 Pinson that has been refurbished from the bottom up.
This is a 2003 Pinson Feed Trailer that has been completely refurbished.  Vertical Rack and Pinion bottom doors and air top doors.  Trailer is 9 compartment.  This trailer was refurbished in 19 and used in the rental fleet.  When this trailer was refurbished is was gone through from the bottom up.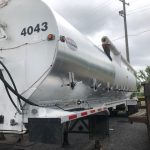 This feed trailer was used in our rental fleet some last year.  It was damaged while on rent and repaired.  This trailer is in very good condition.  In the summer of 2019 we completely refurbished this trailer from the bottom up.